A thick sack full of wheat stood
On a store on the wall.
Then came the cunning folk of the mice
And whistled in this way:

"Oh, you in the corner,
Most powerful of the sacks! [...]"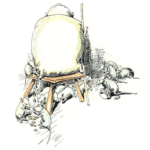 The sack hears with intimate composure
Of being so revered.

Quite unintentionally a mouse has eaten
A hole in the meantime.
The grain runs smoothly.
The mice are crunchy.
It is already wrinkled, crooked, and dull.
The mice become fat and smooth.
… It's coming the end of the Wilhelm Busch drama now!
The ingenious drawings and stories of Wilhelm Busch allow several interpretations.
We have designed a solution that prevents valuable resources from being wasted in your business.